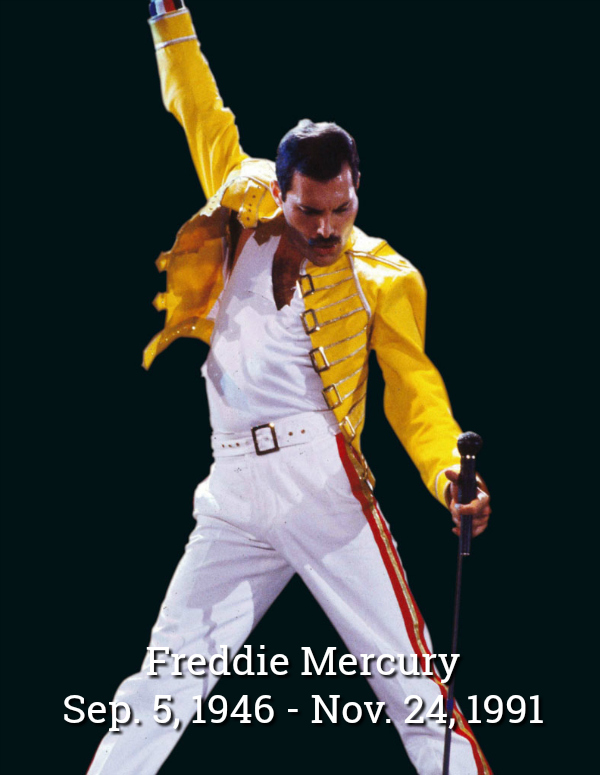 Freddie Mercury was the iconic lead singer of Queen. During the 70's and 80's, Queen were one of the most popular bands on the planet. They released 15 studio albums, nine live albums, 15 compilation albums, 72 singles and numerous music videos.
They also scored number one hits in the United States for 1979's Crazy Little Thing Called Love and 1980's Another One Bites The Dust.
Mercury was only 45 years old when he passed away on November 24, 1991. The official cause of death was bronchial pneumonia resulting from AIDS. Just 24 hours before his death, Mercury released the following statement to the world:
Following the enormous conjecture in the press over the last two weeks, I wish to confirm that I have been tested HIV positive and have AIDS. I felt it correct to keep this information private to date to protect the privacy of those around me. However, the time has come now for my friends and fans around the world to know the truth and I hope that everyone will join with me, my doctors and all those worldwide in the fight against this terrible disease. My privacy has always been very special to me and I am famous for my lack of interviews. Please understand this policy will continue.
RIP Freddie Mercury… You are truly missed.
Please follow and like us: